Sophos Antivirus End Point Protection 
| Features | Intercept X Advanced | Intercept X Advanced with XDR | Intercept X Advanced with MDR Standard | Intercept X Advanced with MDR Advanced |
| --- | --- | --- | --- | --- |
| Foundational techniques | ✓  | ✓  | ✓  | ✓  |
| Deep learning | ✓  | ✓  | ✓  | ✓  |
| Anti-exploit | ✓  | ✓  | ✓  | ✓  |
| Cryptoguard anti-ransomware | ✓  | ✓  | ✓  | ✓  |
| Extended detection and response (XDR) | | ✓  | ✓  | ✓  |
| 24/7 monitoring and response | | | ✓  | ✓  |
| Lead-driven threat hunting | | | ✓  | ✓  |
| Advanced lead-less threat hunting | | | ✓  | ✓  |
Intercept X Endpoint Features
Endpoint Detection and Response (EDR)
Automatically detect and prioritize potential threats and quickly see where to focus attention and know which machines may be impacted

Sophos Intercept X Advanced with XDR integrates powerful endpoint detection and response (EDR) with the industry's top-rated endpoint protection. Built for both IT security operations and threat hunting, Intercept X detects and investigates suspicious activity with AI-driven analysis. Unlike other EDR tools, it adds expertise, not headcount by replicating the skills of hard-to-find analysts.
Extended Detection and Response (XDR)
Go beyond the endpoint by incorporating cross-product data sources for even more visibility

Sophos Intercept X Advanced with XDR is the industry's only XDR solution that synchronizes native endpoint, server, firewall, email, cloud and O365 security. Get a holistic view of your organization's environment with the richest data set and deep analysis for threat detection, investigation and response for both dedicated SOC teams and IT admins.
Anti-Ransomware
Ransomware file protection, automatic file recovery, and behavioral analysis to stop ransomware and boot record attacks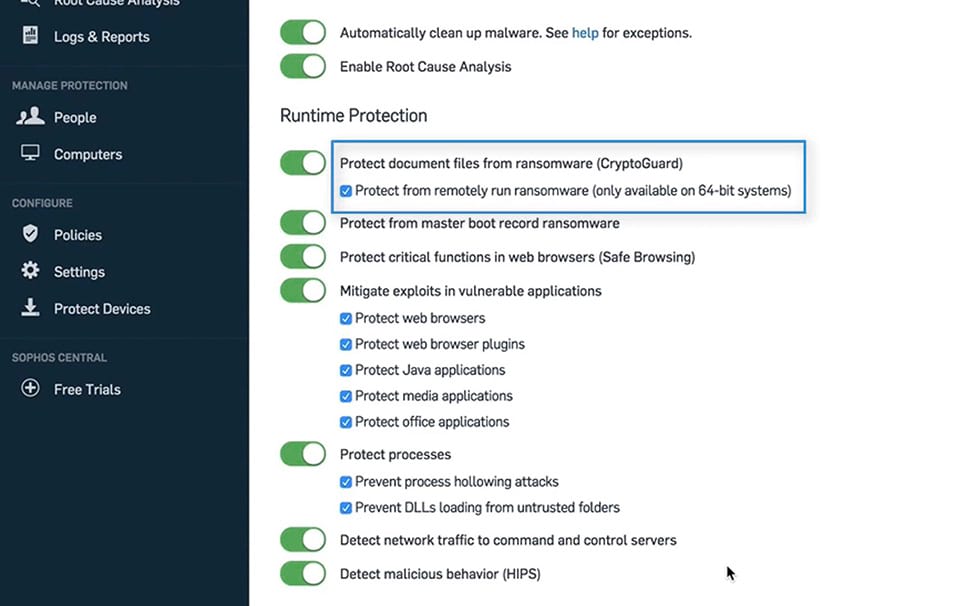 Today's ransomware attacks often combine multiple advanced techniques with real-time hacking. To minimize your risk of falling victim you need advanced protection that monitors and secures the whole attack chain. Sophos Intercept X gives you advanced protection technologies that disrupt the whole attack chain including deep learning that predictively prevents attacks and CryptoGuard which rolls back the unauthorized encryption of files in seconds.
Deep Learning Technology
Artificial intelligence built into Intercept X that detects both known and unknown malware without relying on signatures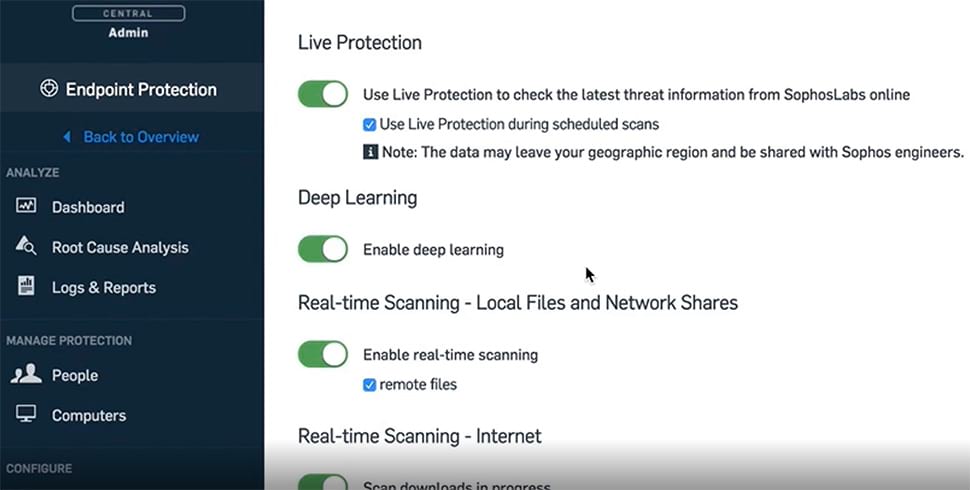 By integrating deep learning, an advanced form of machine learning, Intercept X is changing endpoint security from a reactive to a predictive approach to protect against both known and never-seen-before threats. While many products claim to use machine learning, not all machine learning is created equally. Deep learning has consistently outperformed other machine learning models for malware detection.
Exploit Prevention
Deny attackers by blocking the exploits and techniques used to distribute malware, steal credentials, and escape detection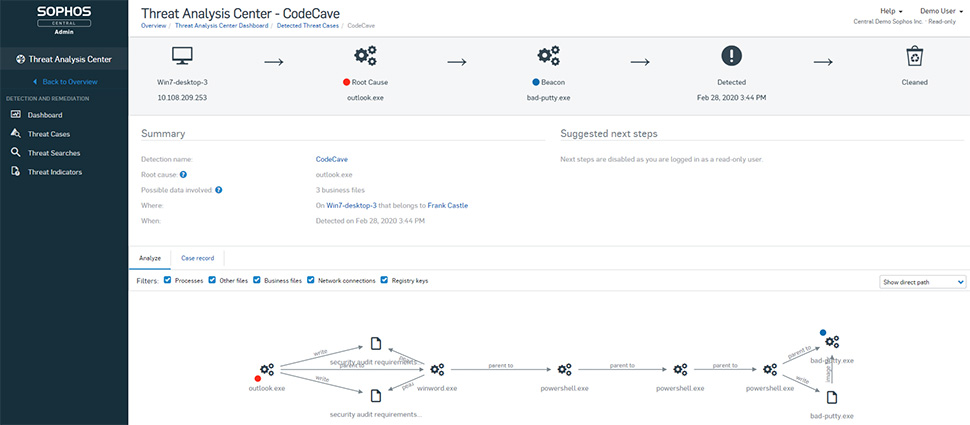 Exploit prevention stops the techniques used in file-less, malware-less, and exploit-based attacks. While there are millions of pieces of malware in existence, and thousands of software vulnerabilities waiting to be exploited, there are only handful of exploit techniques attackers rely on as part of the attack chain – and by taking away the key tools hackers love to use, Intercept X stops zero-day attacks before they can get started.
Managed Detection and Response (MDR)
Elite team of MDR threat hunters and response experts who take targeted actions on your behalf to neutralize even the most sophisticated threats

Sophos Managed Detection and Response (MDR) provides 24/7 threat hunting, detection, and response capabilities delivered by an expert team as a fully-managed service. Sophos MDR fuses machine learning technology and expert analysis for improved threat hunting and detection, deeper investigation of alerts, and targeted actions to eliminate threats with speed and precision. Unlike other services, the Sophos MDR team goes beyond simply notifying you of attacks or suspicious behaviors, and takes targeted actions on your behalf to neutralize even the most sophisticated and complex threats.
Active Adversary Mitigations
Active adversary mitigation prevents persistence on machines, credential theft protection, and malicious traffic detection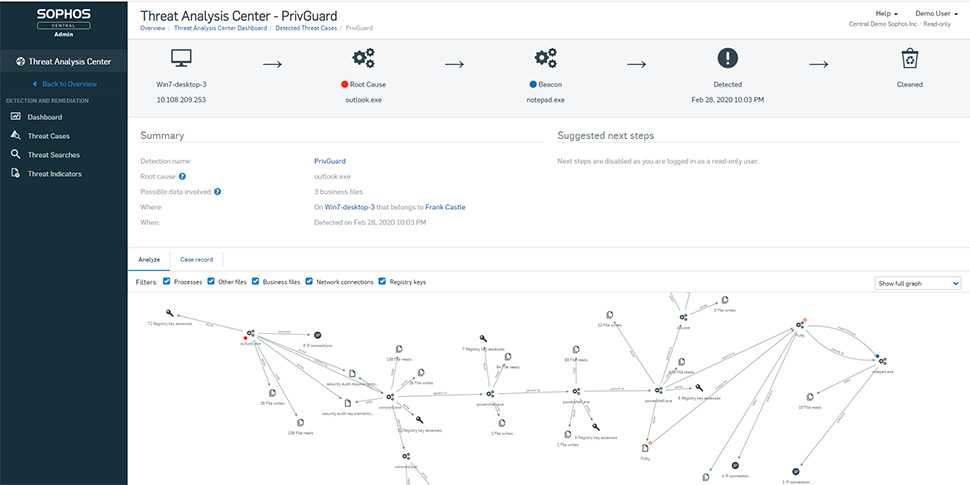 Intercept X utilizes a range of techniques, including credential theft prevention, code cave utilization detection, and APC protection that attackers use to gain a presence and remain undetected on victim networks. As attackers have increasingly focused on techniques beyond malware in order to move around systems and networks as a legitimate user, Intercept X detects and prevents this behavior in order to prevent attackers from completing their mission.
Central Management
Manage your endpoint protection, EDR, XDR and other Sophos solutions from a unified console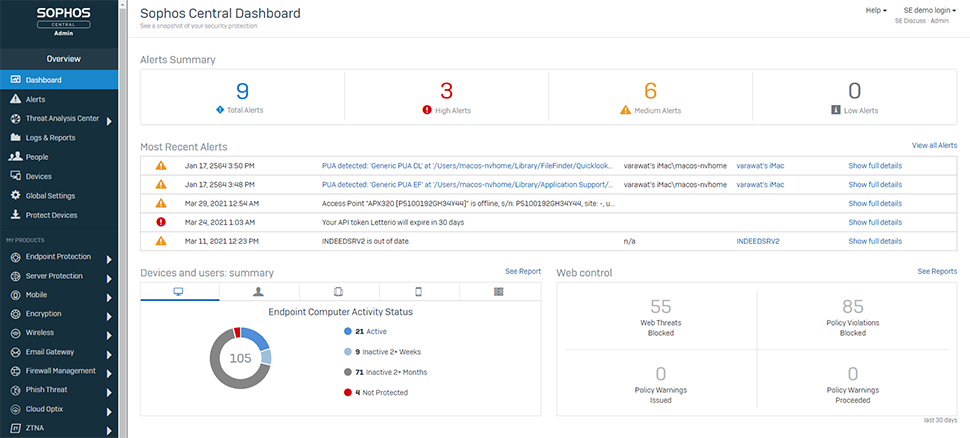 Sophos Central is the cloud-based management platform for all Sophos solutions. You can investigate potential threats, create and deploy policies, manage your estate, see what is installed where and more, all from the same unified console.
Zero Trust Network Access
Integrated ZTNA for remote workers offering a single-agent, single console secure application access solution
Comprehensive virus protection for your entire organization
Network virus protection requires comprehensive monitoring of both networks and end users. Rather than take a reactive approach, Sophos Intercept X proactively monitors for malware and exploits to block and remove threats from networks. Sophos provides powerful XDR capabilities for IT operations and threat hunting, allowing you to quickly identify and remediate any potential issues.
Intercept X protects endpoints, servers, and mobile devices. Server-specific protection ensures your most valuable assets remain safe. Control what can and can't run on your servers – and get notified when something is amiss, like unauthorized change attempts.
Sophos MDR, a 24/7 fully managed threat response service backed by an elite team of threat hunters and response experts, takes antivirus protection even further. This service detects, contains, and neutralizes even the most sophisticated threats on your behalf. Sophos MDR features two service tiers (Standard and Advanced) to provide a comprehensive set of capabilities for organizations of all sizes and maturity levels.
The World's Best Network Antivirus
Sophos XDR enables you to take threat hunting to the next level, detecting and investigating suspicious activity with AI-driven and expert analysis. Stay ahead of the latest threats without adding headcount.
End-to-End Security
Comprehensive defense-in-depth approach combines traditional and next-gen techniques stops the widest range of threats.
AI Threat Protection
Harness the power of a deep learning neural network. This advanced form of machine learning detects known and unknown malware without signatures.
Stop Ransomware
Intercept X includes CryptoGuard, which uses behavioral analysis to stop never-before-seen ransomware and boot record attacks.
Easier security management. Better detection and response.
Intercept X delivers outstanding network management, performance, and security to bring you the world's best endpoint and server protection. And with Sophos Central, manage all your Sophos solutions through a single pane of glass. No jumping between consoles and interfaces – all your protection under one centralized platform.
Sales Number : +91 95 8290 7788
Support Number : +91 94 8585 7788
Sales Email : sales@itmonteur.net
Support Email : support@itmonteur.net